The Importance of Dental Exams
Attending regular dental evaluations you take a proactive position to maintain the wellness of your smile. An annual dental exam at DentalWorks - Hyperlingo assesses tooth decay, periodontal disease, oral cancer, and different concerns that could be impacting your oral and general health. Often performed at twice-yearly teeth cleaning visits, comprehensive exams Dr. Dentist Two examine the teeth, gums, arch alignment, TMJ, and further oral checkpoints and may be the best path to early detection and care of oral problems. In order to maintain the health and look of your mouth, arrange a comprehensive oral examination at our City, ST office!
Reportedly, 50,000 people in this country are affected by oral cancer annually. However, the disorder may be easily manageable if detected immediately. Oral cancer is known as a fast-developing multiplication of cells that could take place anywhere inside of or near the, including on the, cheeks, tongue, salivary glands, jaws, or the neck, among other oral structures. performs an oral cancer screening during every dental exam to look for precancerous tumors, cancerous growths, or various other concerning developments. Some of the most common signs of oral cancer consist of abrasions, masses, elevated or rough lesions, and inflamed or pale patches. Certain regions of concern can be excised and biopsied, or you might be sent to an oral cancer doctor for further care.
Reviews
"I confess I entered the lobby with some anxious feelings. Years of youthful neglect coming home to roost. The entire staff treated me like I was their only patient for the day; but every chair was occupied. This is the only review I have ever written. These professionals are the best! I've dropped in just to say hello. (Am I crazy to feel this way toward my dentist?) Thanks again, Dr Lee, Pink, and everyone! Sincerely, middle-aged disgruntled man."
- L.R. /
Google /
Mar 11, 2020
"Everyone is friendly and professional. Dr. Le is fun, friendly but most importantly I trust his experience and education. He is very thorough !"
- R.S. /
Google /
Mar 09, 2020
"Ever since Dr. Brandon Lee has come to this Rock Canyon Dental office my overall view/experience has changed significantly. Not only is he a perfectionist when it comes to his dental work, he is by far one of the most personable professionals I've ever met! He always takes the time to catch up with me and has an amazing memory of things we have talked about in the past. Additionally, he is extremely generous as evident with his monthly drawings; this month it's a beautiful wooden table that he made himself! I can't say enough about what a great dentist/man Dr. Lee is. I only hope he doesn't have plans to leave any time soon. Thanks brother and keep up the awesome job that you do!"
- M.J. /
Google /
Feb 16, 2020
"Great dentist and staff. Jorden the hygienist was super and professional took care and I didn't have to flinch. Awseome"
- H.B. /
Google /
Jan 25, 2020
"i Have nothing but good things to say about Dr Brandon Le and his team."
- L.E. /
Google /
Dec 20, 2019
Previous
Next
Who Should Get Dental Exams?
City, ST individuals of every age would benefit from receiving oral evaluations at least one time every year for general treatment. Dental exams can also be carried out when needed to assess dental sensitivity, injury, and other localized concerns that might develop between checkups. Periodontal diseasethe central cause of tooth loss and tooth decay might not cause serious signs to develop until the later stages. When dental issues are diagnosed right away, our staff can generally provide more conservative options for care.
The () all young patients see their dental care provider before they are a year old. To treat kids at this early age, our dental professionals can help with a range of problemslike tooth formation and thumb-sucking and aid you in caring for your child's teeth and gum tissues as their oral structures develop. Yearly thorough dental exams could help your young ones form good oral habits from the beginning and let them attain glowing smiles for a long time.
What To Expect During Your Visit
Oral exams at DentalWorks - Hyperlingo open with an assessment of your medical record. A team member might also go over any health issues or cosmetic smile aspirations you have to learn more about your overall oral health. During specific routine checkups, a set of computerized x-rays could be offered to grant more awareness of the health of your enamel and jawbone. They will then conduct a screening for oral cancer, check the alignment of your arches and jaws, and monitor your teeth for decay and the fit of any dental fixtures. A exam will also be carried out to find existing indications of disease.
Developing great dental wellness routineslike regular toothbrushing after eating and flossing no less than once daily should help to lessen your chances for getting cavities and gum disease. conducts routine dental exams, on average, once per year, commonly at one of a patient's twice-yearly teeth cleaning appointments, but could suggest exams more frequently for individuals with serious dental health disorders. Our facility offers a number of effective treatments, such as state-of-the-art dental fillings, dentures, and porcelain veneers, to address your special smile aims. If necessary, our team may help you plan check-in appointments.
Insurance Coverage for Exams
Oral checkups fall under preventive solutions, which means that they are frequently paid for by dental insurance programs. Prior to your session, a member of our business staff will assess your individual plan and contact you with any possible extra expenses. DentalWorks - Hyperlingo is happy to accept a range of flexible payment options to ensure that everyone can get effective, low-cost treatment.
Why does my tooth hurt?
Toothaches are caused by a number of issues. The most common cause, cavities, or tooth decay, create a painful environment around or inside the affected tooth. Some patients may have an abscess, or an infection of the tooth root, which can cause excruciating pain.
How long should I wait to see a dentist if my tooth hurts?
A toothache typically develops from an infection or damage somewhere inside or around a tooth. Treating tooth pain with pain-relieving medication might provide temporary relief. We recommend seeing the dentist if your toothache lasts longer than a day, because your condition can worsen if left untreated.
How is a toothache treated?
After an examination, the dentist may take x-rays to further decipher the cause of your toothache. Once a diagnosis is reached, a treatment plan will be prescribed to address the toothache. These treatments may include antibiotics and fillings to more in-depth procedures, like a root canal or tooth extraction.
How can I prevent a toothache?
The best way to prevent a toothache is by maintaining good oral hygiene practices. Brush your teeth gently twice a day with a fluoride toothpaste and floss at least once a day. If you play sports, consider wearing a mouth guard. And don't forget to schedule regular dental exams and cleanings twice a year.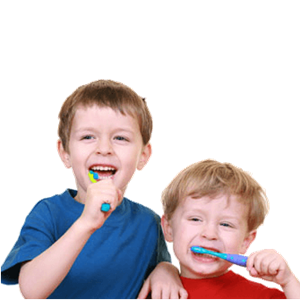 Protect Your Smile With Preventive Care
Getting a nice smile means more work than simply going to a dental practitioner when you have a concern. Routine dental exams at DentalWorks - Hyperlingo create a path for prompt diagnosis and management for oral conditions and are crucial in preserving your smile. Plan your family's annual dental evaluations with Dr. Dentist Two at our City, ST practice!
Related Procedures
Related Posts