Dentistry for Children, Teens, and Adults
Benefiting from is critical in every part of life, from an individual's early years through the geriatric years. DentalWorks - Hyperlingo performs many general family dentistry techniques to you and your family enjoy the benefits of great oral health at. Whether you or your family need child-focused dental care, corrective solutions, cosmetic dental procedures, or geriatric care, our practice delivers personalized services you can trust. At your family's dental visits, Dr. Dentist Two will evaluate their teeth, gums, and jaw to detect any dental concerns that may be impacting their smiles. They will then choose the optimal solutions to treat their personal dental wellness demands. Reach out to our City, ST practice today to arrange yearly assessments or biannual teeth cleanings for every person in your family.
Reviews
"I confess I entered the lobby with some anxious feelings. Years of youthful neglect coming home to roost. The entire staff treated me like I was their only patient for the day; but every chair was occupied. This is the only review I have ever written. These professionals are the best! I've dropped in just to say hello. (Am I crazy to feel this way toward my dentist?) Thanks again, Dr Lee, Pink, and everyone! Sincerely, middle-aged disgruntled man."
- L.R. /
Google /
Mar 11, 2020
"Everyone is friendly and professional. Dr. Le is fun, friendly but most importantly I trust his experience and education. He is very thorough !"
- R.S. /
Google /
Mar 09, 2020
"Ever since Dr. Brandon Lee has come to this Rock Canyon Dental office my overall view/experience has changed significantly. Not only is he a perfectionist when it comes to his dental work, he is by far one of the most personable professionals I've ever met! He always takes the time to catch up with me and has an amazing memory of things we have talked about in the past. Additionally, he is extremely generous as evident with his monthly drawings; this month it's a beautiful wooden table that he made himself! I can't say enough about what a great dentist/man Dr. Lee is. I only hope he doesn't have plans to leave any time soon. Thanks brother and keep up the awesome job that you do!"
- M.J. /
Google /
Feb 16, 2020
"Great dentist and staff. Jorden the hygienist was super and professional took care and I didn't have to flinch. Awseome"
- H.B. /
Google /
Jan 25, 2020
"i Have nothing but good things to say about Dr Brandon Le and his team."
- L.E. /
Google /
Dec 20, 2019
Previous
Next
Candidates for Family Dentistry
Individuals in any phase of life need to get professional dental cleanings and checkups about two times annually, or more frequently if they notice any mild or severe pain or sudden or long-lasting concerns. parents or guardians their infants go to their initial dental exam before their first birthday, as stated by the (). When oral problemsincluding periodontal disease and tooth decay are diagnosed early, the most common therapies will usually be more effectual. At DentalWorks - Hyperlingo, our team is thrilled to offer comprehensive family dentistry solutions for people of a wide range of ages and stages of life, such as toddlers, children, adolescents, men, women, expecting women, and geriatric patients.
What to Expect During Your Visit
Yearly dental appointments should typically consist of an exam and a professional teeth cleaning. Throughout your yearly exams, we will look for dental caries, periodontal disease, TMJ problems, and any indications of various other irregularities. We will then review some potential treatment or therapies. Our numerous family dentistry therapies are designed to meet a wide variety of needs, from protective dental solutions, like dental sealants, to dental fillings and dental implants. Dental-therapy needs vary during a patient's younger, adolescent, adult, and elderly phases of life. has a detailed understanding of the dental wellness problems that form throughout these stages and will work with your family to help every one of you enjoy the perks of a clean smile.
Maintain Your Oral Health
At the conclusion of each visit, and our team will help you develop a customized treatment program to improve and preserve your family's oral health. A major to your dental health is to follow a proper dental cleaning regimen between exams, which includes thorough toothbrushing and flossing every day. Someone on our team will instruct you on proper toothbrushing habits and give you suggestions about addressing spots that might demand more attention. Yearly appointments at DentalWorks - Hyperlingo our team take care of your family's dental wellness and catch hidden oral conditions before they turn into more severe concerns.
Insurance Coverage for Family Dentistry
A large number of family dental procedures are paid for by insurance. To determine your exact coverage, our financial personnel will evaluate your individual plan and give you a calculation of your leftover expenses. DentalWorks - Hyperlingo wants to make oral care cost-effective for each patient and accepts a range of payment options, such as low-interest medical payment plans.
What is a cavity?
Cavities begin as decay caused by bacteria in the mouth left by sugar-filled drinks and food, poor oral hygiene, or not visiting your dentist on a regular basis. These factors create a small hole, or cavity, in the enamel of the tooth. If left untreated, this small hole can turn into a big problem.
What causes cavities?
Harmful bacteria in the mouth, usually left by sugary drinks and foods, turn into a substance called plaque when not removed in a timely manner. The acid in the plaque erodes the tooth, weakening it, and causing a hole, or cavity in the enamel.
Factors that raise the chance of developing a cavity include:
Not brushing and flossing your teeth twice a day

Not visiting your dentist for an exam and cleaning twice a year

Tooth shape

A high gumline

Dry mouth

Consuming excessive sugar (soda, candy, juices)
What are the symptoms of a cavity?
The symptoms of cavities vary depending on how large the cavity is and where it is located. The symptoms of a cavity include:
A toothache or pain in the tooth

Sensitivity in the tooth to hot or cold temperatures

Mild to sharp pain when eating or drinking

Visible holes in the tooth

Stains that are brown, black, or white in color on the tooth's surface

Pain when you bite down
How are cavities treated?
A cavity is usually removed from the tooth and the resulting hole is protected with a filling. If the cavity is too large for a filling, you may need an alternative treatment such as a dental crown, custom onlay, inlay, or root canal. If you do get cavities frequently, ask your dentist about preventive options such as fluoride treatments and dental sealants.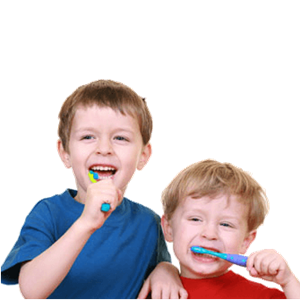 Quality Care For Your Family's Smiles
Safeguarding your family's smiles against damaging dental disorders is important at each stage of life. At DentalWorks - Hyperlingo, our dental professionals are pleased to offer innovative, proven treatments to improve the dental wellness of children, teens, and adults of all ages. Discover the advantages of family dental care by setting up an examination with Dr. Dentist Two at our City, ST practice soon.
Related Procedures
Related Posts